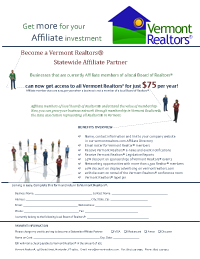 Affiliate members are important to the success of Vermont Realtor® members throughout the state. Vermont Realtors® thanks the following Affiliate businesses for their membership in the organization, and for their support of the real estate industry.
Businesses can join local boards of Realtors® in Vermont, in addition to becoming members of Vermont Realtors®. For a listing of local boards, click here.
Did you know that you can become a statewide affiliate if you currently hold a membership in a local board of Realtors® in Vermont? For an additional $75 per year, your statewide membership gives you access to all Vermont Realtors®, and to a variety of affordable and effective marketing opportunities. Download our application for more information.
AFFILIATE DIRECTORY
ATTORNEYS
Vail Law Office
136 Main Street
Chester, VT 05143
Contact: Sarah Vail
(802) 875-3434
svail@vermontel.net
Community Development

 
RuralEdge
48 Elm St.
Lyndonville, VT 05851
Contact: Mandy Chapman
mandyc@ruraledge.org
www.ruraledge.org
Construction
Pro-Tech Painting
132 North Champlain St.
Burlington, VT 05401
Contact: Larry Paap
(802) 318-0205
protechpainting1@gmail.com
www.protechcontractingllc.com
ENGINEERS
 
Criterium-Lalancette Engineers
P.O. Box 6348
Rutland, VT 05702
Contact: Barbara Lalancette
(800) 639-4535 ext. 206
BLalancette@criterium-lalancette.com
www.criterium-lalancette.com
ENERGY EFFICIENCY
 
Efficiency Vermont
128 Lakeside Ave., Suite 401
Burlington, VT 05401
Contact: Chris Gordon
(802) 540-7683
cgordon@veic.org
www.efficiencyvermont.com
ENVIRONMENTAL SERVICES

Murray & Masterson Environmental Services
88 B North St.
Bristol, VT 05443
Contact: Dagan Murray
dagan@murray-mastersonenv.com
www.murray-mastersonenv.com
FINANCIAL INSTITUTIONS
 
Fairway Independent Mortgage Corp.
110 Kimball Ave., Ste. 120
South Burlington, VT 05403
Contact: Erin Perrin
(802) 233-2952
erinp@fairwaymc.com
www.fairwaymc.com
Wells Fargo Home Mortgage
435 Ford Rd., 7th Floor
St. Louis Park, MN 55426
Contact: Todd Johnson
mlsmemberships@wellsfargo.com
www.wellsfargo.com
HOME INSPECTORS
 
Cramer Home Inspection
7 Christmas Road
Montgomery Center, VT 05471
Contact:
Laura Cramer
(802) 326-2147
laura@cramerinspections.com
www.cramerinspections.com
Home Smith Services, LLC
46 Rd. 18
Middlebury, VT 05753
Contact: Dutton Smith
(802) 989-4639
dutton@homesmithvt.com
www.homesmithvt.com

VIRTUAL REALITY TOURS

 
Immersive Technology Studios
43 Daniel Dr.
Barre, VT 05461


Contact:

Andrew Glover
andrew@vrtourpros.com
www.vrtourpros.com
Save
Save
Save
Save
Save