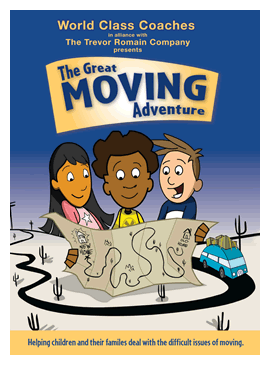 Vermont Realtors® can make a difference in the lives of families who are in the process of moving. Each year, more than 8 million children between the ages of one and 14 move, or are relocated. A new initiative aims to help Realtors® take a proactive approach in helping families deal with the emotional and physical challenges children face when moving.
The Moving Families Initiative is a national plan focusing on serving the needs of families moving with young children. The Initiative connects moving families with Realtors® to help alleviate the stress that inevitably comes with moving.
At the heart of the Moving Families Initiative is a short animated children's DVD, The Great Moving Adventure. The DVD is meant to be given as a gift from a participating real estate agent specifically to a family moving with young children.
How it Works
Register to become a MFI Participating Real Estate Agent™ (see link below)
Once registered, you will receive your MFI Participating Real Estate Agent™ Guide from World Class Coaches via e-mail.
Keep a limited number of "The Great Moving Adventure" DVD with you at all times to be prepared to serve a family that you may come in contact with that is moving or thinking about moving with school-aged  children.
Realtors® who have purchased a minimum of 1 DVD have the option of participating in free training on how to use the resource tool to achieve the initiative's mission, objectives and goals above.
Facts about Children and Moving
Sense of loss and separation from people, places and things, coupled with the frustration and anger that comes with not having the emotional maturity to adjust to this loss.
For young children, the normal process of separation can be interfered with, causing them to return to a more dependent relationship with their parents.
Susceptibility to a wide range of emotions: depression, loneliness, anger, changes in appetite, social withdrawal, irritability, sleep disturbances, fear, all from the stress associated with loss and interruption.
Interruptions/disruptions in schedules, routines, friendships, and not having the maturity to deal with this and what they miss.
Insensitive parents who may not understand children's sense of powerlessness and the absence of a sense of safety. These parents need resources to help them and these children needs parents to normalize things and make sense of their feelings.
A misunderstanding that the chaos and frustration that their parents exhibit is their fault.
Confusion, stress and anger if they have not been successful in making new friends.
The "new kid" syndrome that can bring on bullying or being bullied.
Falling grades and adjustment to changes in curriculum. There are often negative effects on learning.
Post traumatic stress disorder in rare cases when accompanied by other changes in the child's life such as death or divorce.