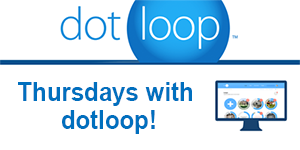 Now: Thursdays with Dotloop!
Become a Dotloop expert with free Thursday webinars!
Beginning January 8, VR members can participate in weekly member webinars offered at no cost!
Here's what the webinars will cover:
How to add your interactive forms
How to create and utilize a loop (an online collaboration space) to work better with the people you work with
How to utilize dotloop's eSignature How to utilize dotloop premium features to take your business to the next level
Click here to get started!
Dotloop is reinventing the way deals get done, and they have paired up with Vermont Realtors® to make it happen!
Dotloop believes that transactions shouldn't be painful. See how you can eliminate the pain – along with the need for forms software, eSignature solutions and transaction managers – by using Dotloop.
Check out this 2-minute video to learn more: